PS&MS carries out assembly operations which include in particular: unloading of plant machinery following transportation, moving the machinery to the right place according to a specific layout, positioning and alignment according to specific guidelines. During the next stage the machinery is connected to the utility supply, launched and necessary tests are carried out. After successful completion of testing, final acceptance takes place.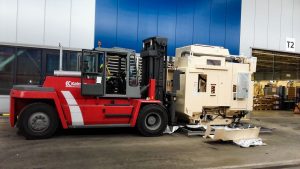 We also provide assembly and installation services according to orders made by manufacturers. Our comprehensive offer includes planning, loading of cargo, transport as well as installation and commissioning. Moreover, our specialists are at your disposal during meetings and provide assistance during commissioning of the machinery and operation until the assumed efficiency of the machinery is achieved.
The service starts with establishing the details of the order with our customer. Based on such details we draw up a schedule, which is approved by the client and which allows each party to supervise work operations easily.